Having looked at the basics of rugby betting in our first post in this series, it's time to turn our attention to the strategies behind making a profit over the course of a rugby season.
It's important to remember there is no guarantee to making a profit from any rugby bet; these are long-term plans, not get rich quick schemes. Just as any bet can be a winner, they can be losers as well, sometimes the same wager can flip from winning to losing and vice versa in a matter of moments.
Rugby Betting Strategy
Research is key
Treat a bet as you would any investment because if you are following a rugby betting strategy, that's exactly how you should think of it.
With a good rugby betting strategy it's vital to look at the two teams closely, paying attention to form, injuries and suspensions and recent history between the two teams. Some of the best teams in the world have blind spots in specific games or at a particular ground. In an evenly matched game, this might prove a decisive factor.
Knowing your referee is vital. Is he a disciplinarian, card happy or one who lets the game flow? More so than in other sports, losing a player to the sin bin can adversely affect a match.
Favourites and Underdogs
Every rugby match will have a favourite and an underdog, and every dog has its' day. No sport is immune from upsets and rugby union has its' share of them.
Don't rule out the upset , always be aware they happen but avoid seeking them out as a rugby betting strategy in the long run. The odds may be tempting and promise to make a healthy profit but remember, this is a betting strategy which will most likely result in losses over the long run.
Betting Strategies
Essentially, there are two core rugby betting strategies although there is nothing to stop them being combined and each has their nuances. Crucial to success is betting with your head; luck plays a part but you are more likely to be successful if you think a bet through than if you choose  a team because you bought a dog from the Number 8's sister two years ago.
Short odds, Big bets
This is popular rugby betting strategy and focuses on the wagers which are likeliest to pay off. It relies on researching the fixture beforehand and then placing big stakes to get a good return.
In this example, the home team are overwhelming favourites.

Researching the match shows that it is heavily influenced by current form. The home team has won none of the previous three fixtures between the two sides at their ground.
In this instance, the away team has lost their last four while the home team has won four of the last five; form is over-riding history.
The Wager
The home team will return R0.24 for every R1 bet; so, R100 brings R24, while R1,000 gives R240; a good profit for a match which on the face of it seems to provide minimal returns.
The Risk
History might over-rule form here. If the away team wins, you are turning down R3,510 in profit. However, the current form is so divergent that the short odds strategy almost demands the bet.
Long odds, Small bets
In this example, the match is between two teams who sit one above the other in the table.

Despite their closeness in the table, the odds suggest the home team has a 90% chance of winning. Their recent form is that they lost their last match, having won the previous four. The away team lost also, but only won three of the last four.
The home team is dominant in the fixture but sits just two points above the away team in the table. While the odds sit decisively in one team's favour, reality suggests a closer match. A bit of research can go a long way for effective rugby betting.
The Wager
An away team win brings R2.77 for every R1 wagered. To achieve a similar return to the short odds, large bets strategy, the bettor need only use a R100 stake. It is a lot less money to risk, but the odds reflect there is more chance of losing.
The Risk
The lure of the underdog is strong when you look at the potential returns, the question to be answered is how much money can you afford to lose and still maintain an overall profit?
While the odds can be influenced by betting patterns, the reality is that the outcome of the game will hold bigger sway in most cases.
In this instance, is the R100 stake critically impacting the overall strategy to make a profit in the long run?
The reality of this rugby betting strategy is that you will place more bets than you win. However, those wins might make it more profitable overall. One thing is for certain: you need nerves of steel following this plan.
Overall
So how do you compare the two? It is difficult but remember that the longer the odds, the less likely the outcome.
Take a look at this example: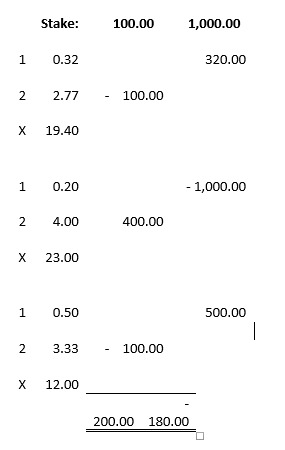 If you were looking over the short-term, the strategy of bet low on long odds works best. Despite winning one of three bets, your profit is R380 higher. Fantastic stuff it actually happens.
However, consider altering the run to winning one bet in four. Look at how quickly it can change:
Suddenly, the R180 loss of the one in three win ratio switches to a R140 profit, bringing in a better return than bet low, bet long.
These are the factors which must be considered when choosing your strategy. One big win can alter a situation dramatically, in the same way, a long losing streak can.
Remember:
Not every bet is a winner, but placing sensible wagers after carrying out research can bring good rewards.
For specialized and comprehensive local and international online rugby betting including Super Rugby, Currie Cup, Six Nations and Varsity Cup either in house and/or through our online sports betting facilities, visit Keith Ho BetXchange for the most competitive prices and the largest rugby betting options available in South Africa.