On 27 August at Flushing Meadows, New York, the final grand slam on the 2018 tennis calendar, will get underway, with the best clay, grass and hard court players fighting for the silverware. Running until 9 September, the US Open is expected to be a fantastic end to an nail-biting summer season. Here are some of the top contenders to consider.
Below we look at predictions for the US Open Tennis Tournament.
US Open Tennis Predictions and Betting Odds
Men's predictions
When it comes to men's tennis, we've already seen the 'Big 3' take a grand slam title each – first Roger Federer at the Australian Open, then Rafael Nadal at the French Open and, more recently Novak Djokovic at Wimbledon. This makes the fourth and final grand slam a truly sought-after title.
Roger Federer
Grand Slam Wins: 20
He doesn't get older, he just gets better. In 2017, the Swiss dynamo took both the Australian Open and Wimbledon. In 2018, he's already notched up the Australian Open – his sixth – beating Marin Cilic in the five-set final. He missed the clay court season, backing himself for Wimbledon where he lost out to South Africa's Kevin Anderson, the eventual second place contender. Federer is always a strong player to back and taking the 2018 title would be his first US Open title in a decade.
Current betting odds: 7/2
Place a tennis bet
2. Rafael Nadal
Grand Slam Wins: 17
The King of Clay is on top of his game. He's the defending US Open champion, French Open champion and semi-finalist at Wimbledon. For the Spaniard to take the 2018 US Open, he would clock up his 18th grand slam win and fourth US Open win. Nadal is definitely a favourite going into this tournament.
Current betting odds: 39/20
3. Marin Cilic
Grand Slam Wins: 1
Although he only has one grand slam title to his name, the lanky Croat is always on the fringe, ready to give the Big 3 a tough run. He took the 2014 US Open title and has certainly had a good 2018 season, making it to the Australian Open finals. While he might not take the 2018 title, he will certainly put up a good fight.
Current betting odds: 18/1
Place a tennis bet
4. Novak Djokovic
Grand Slam Wins: 13
Fresh off his Wimbledon victory, this incredible player is obviously back to his winning ways and looks set to take another grand slam title. He's previously taken the 2011 and 2015 US Open titles and, after being side-lined in 2017 following an elbow injury, his 2018 season has been incredible. He managed to reach the French Open quarterfinal and then final at Queen's club before his epic win at Wimbledon. The Serb is certainly going into the US Open as a top contender.
Current betting odds: 22/10
Place a tennis bet
5. Juan Martin del Potro
Grand Slam Wins: 1
Like Cilic, this Argentinian player has only one grand slam title but has had a really good 2018 season. He likes to push the Big 3, and this has been evident, having made it to the semi-finals in the French Open and quarter-final at Wimbledon…he might just push into the final at the US Open.
Current betting odds: 8/1
Place a tennis bet
Women's Predictions
This year the US Open will see 11 grand slam champion winners taking to the courts – including six US Open winners. With Serena Williams recovering after having her first child in 2017, many top players got the opportunity to land their first grand slam titles. It will be interesting to see whether the queen of the courts will allow any more to slip away.
Simona Halep
Grand Slam Wins: 1
The Romanian first broke onto the scene in 2013, reaching her first grand slam final the following year at the French Open where she lost to Maria Sharapova. Despite her small stature, she has a big serve, speed and consistency. She finally took a grand slam title this year at the French Open, having reached three grand slam finals – two at Roland Garros – and she's currently boasting World No.1 status. She's a top contender for the US Open title.
Current betting odds: N/A
2. Caroline Wozniacki
Grand Slam Wins: 1
Although having taken only one grand slam title, the Danish player has won an impressive 29 WTA singles titles – six in 2010/2011 alone. Like Halep, Wozniacki finally got her first grand slam title this year, at the Australian Open, pushing her up to World No.1. It's a good year for Wozniacki.
Current betting odds: N/A
Place a tennis bet
3. Sloane Stephens
Grand Slam Wins: 1
The reigning champion of the US Open, American professional, Sloane Stephens, is an extremely competitive player and will be looking to hold her title on home turf. In 2013, she made herself known when she beat Serena Williams in the Australian Open. Her ascendency was interrupted by a foot injury in 2016, but she went on to win the US Open upon her return. She made it to the final of the 2018 French Open so she's looking good to take another title.
Current betting odds: 4/1
4. Angelique Kerber
Grand Slam Wins: 3
The former World No.1 worked her way to prominence at the 2011 US Open where she reached the semi-finals. This left-handed German is renowned for her hard-hitting, all-court game that has seen her take the 2016 Australian Open, 2016 US Open and this year's Wimbledon Championship. She's on form to keep the grand slam hits coming.
Current betting odds: N/A
5. Serena Williams
Grand Slam Wins: 23
In women's tennis, Serena has, undoubtedly, been the dominant force for almost two decades. Winning the Australian Open pregnant earned her a new form of respect from even the most critical of critics and, having returned to the tennis scene following the birth of her daughter, Serena is making her way back up to No.1. She achieved her first career grand slam in 2003, and has continued to push the levels of tennis as she clocked title after title. Although she had to pull out of the French Open because of an injury, and was knocked out of Wimbledon by the eventual winner, Kerber, she is back on form and ready for her 24th grand slam title.
Current betting odds: 33/20
Place a tennis bet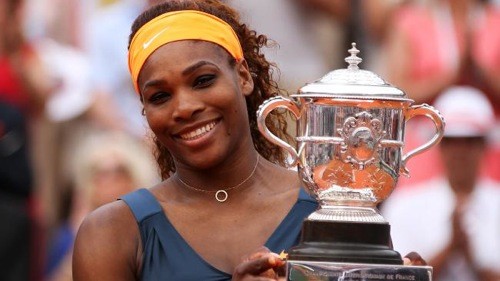 Please note betting odds quoted are correct at time of publication and are subject to change. View the latest tennis betting odds