We've done the hard work in finding you the best sites out there to give you new angles of great information, insight and analysis to help you with those all too important soccer bets!
Predicting match results
Arguably the most common bets cast in soccer related betting refer to match results, the number of goals that are scored in a match, and the timings of those goals. Now, while the upcoming tips can in no way be interpreted as a 100% trusted crystal ball, for those willing to examine the wealth of data available, these sites can provide considerable value when planning your next soccer bets.
Win, lose or draw? How should I bet?
Those lacking the time (or patience) for detailed analysis of match results to guide their bets need not worry; there's some simple key principles and data sources to use in guiding how to choose the most basic of soccer bets.
Soccer Betting Analysis
Form:
Arguably the most critical factor in deciding a result is form; a team on a commanding winning streak is always going to be considered more likely to continue doing so unless that streak begins approaching record levels, where the anxiety to drop points suddenly increases exponentially. Whoscored.com provides a simple view of form, accessible for nearly every league covered. Simply click on a league of choice, and find the league table: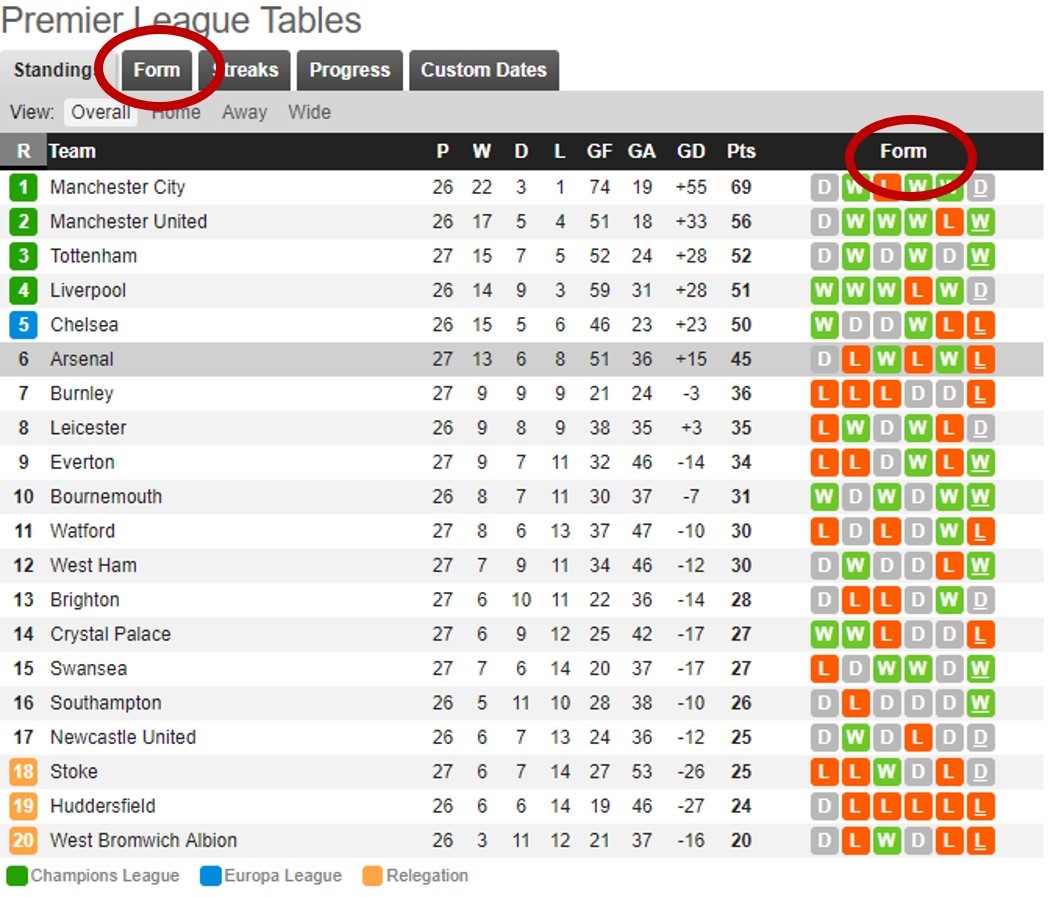 In the highlighted section on the right, a quick glance at this particular table highlights the excellent recent points returns for Man United, Spurs, Liverpool and Bournemouth. However, 3 of those sides were to face their next opponent away from home.
Read More: EPL Top Goal Scorer Predictions
Clicking on the form table, and specifically the "Away" view gives a far better indication of just how well Liverpool and Man United are travelling, whereas Bournemouth's overall form is clearly far more a function of their matches at their home ground.
At initial glance, these tables already give tipsters some guidance on how to place their bets. Man United and Liverpool seem good choices on the whole for away victories, whereas Bournemouth less so. Another intriguing perspective to consider? The opposition form. Looking at the Streaks tab, Bournemouth's opponents Huddersfield have gone 5 games without a victory at home.
Depending on your betting appetite, you could either bank on the home side breaking their streak, or a relatively dull stalemate. Either way, the information provides some useful perspective.
Soccer Betting
Home vs Away:
In many cases, home ground advantage becomes a massive factor in deciding the result of a fixture. Staying with our examples of the Premier League, consider the home and away tables contained within the excellent WhoScored.com league table:
Already some intriguing considerations that tipsters can use emerge from these tables. Matches at Anfield and the Etihad don't tend to involve the home side losing. Visitors to Old Trafford tend not to score. Leicester City are as likely to score on their travels as they are to concede. And in the case of one our featured games for discussion, Southampton vs Liverpool, the Saints placement as the 3rd worst side at their own ground can only favour Liverpool's chances of victory, even if the Reds are almost guaranteed to give up a goal or two in the process.
This view is further reinforced by examination of the view of home and away form, where Southampton are even worse in the home table by form and Liverpool represent the best travelers, statistically speaking. It's important to note – none of these factors naturally speak to guaranteed victory for Liverpool but rather, speak to nuances that inform betting choices. There's an argument to suggest Southampton are due a home victory; it would simply represent a clear bet against the direction of the odds.
Head to Head history:
Another critical component to consider is head to head history, which often plays a factor where certain sides have fierce rivalries that sometimes undermine the form table, or reveal "bogey" teams for certain opponents. In the case of Southampton vs Liverpool, it could make an interesting case for the home side.
Clicking on the "vs" in the match fixture on WhoScored.com, brings us to the match preview section, where the Head to Head tab gives a detailed view of recent meetings.
This view already gives us a compelling argument; while Liverpool's last match against Southampton was a victory, it was the first win in the last 6 encounters with the Saints. As always, a more appropriate view would be to consider Home & Away encounters, which is easily accessed by the respective button:
This perspective also offers tipsters some helpful context. In the example above, Liverpool's last 3 trips to St. Mary's stadium have been winless affairs – making the prospect of a form breaking home with for Southampton all the more appealing a bet.
Scheduling:
A key factor that often goes overlooked with predicting match results is the issue of scheduling. Often squads are stretched at key points in the season due to injuries, fatigue, suspensions or simple fixture congestion. Such issues can often highlight potential cases where it may be feasible to anticipate a surprise defeat for a side in good form.
WhoScored.com's view of a specific team allows the ability to examine a full fixture list across competitions. A view of Tottenham's matches forms the context for the next discussion.
The fixture list for Spurs was largely unkind, despite the good form they've managed to accumulate. A needless FA Cup replay against Newport was sandwiched by back to back games of critical importance against Man United, Liverpool and Arsenal.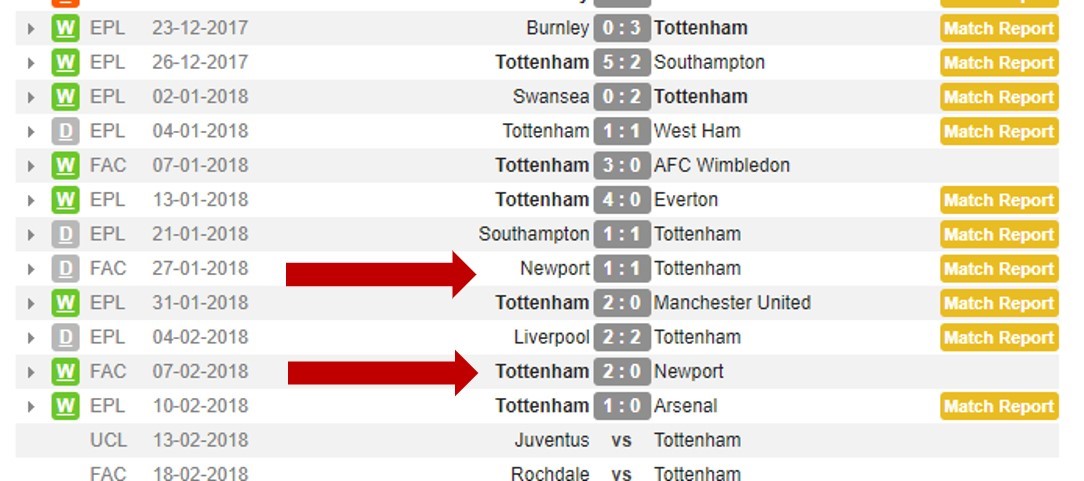 Why is this an important consideration? Because an examination of the Fixtures section reveals Spurs' next fixture is a trip to European runners up Juventus, off the back of a grueling run of fixtures, which while characterized by good form, could highlight issues of squad rotation and tiredness.
Except in Spurs' case, Mauricio Pochettino is managing this issue extremely well. The screenshot above shows the Spurs' lineups used in the victory over Newport, where few first team players made an appearance.
The only risk for Spurs may be the form of Son Heung-Min; an examination of his fixtures specifically not only gives a view of the extensiveness of minutes the Korean has been contributing to the recent run of form, but also a subtle view of how his own form has started to wane. It could be a measure of the difficulty of opponents, but if it is related to fatigue, then his performance against Juventus could be less than satisfactory. And if tipsters believe his role is critical to a good performance against Juventus, it could be a deciding factor in how to place a bet.
But the above also reveals how a congested schedule can also in fact mislead tipsters. In the case of Spurs, it could easily be argued that the importance of Song Heung-Min is negligible compared to that of Harry Kane, or Christen Eriksen, or Dele Alli. And given how Tottenham have handled squad rotation so well in recent weeks, it could well be that other factors, such as head to head history, or home and away records will play a far better role in guiding betting choices.
We hope you enjoyed this soccer betting resources guide to give you some tips on placing your soccer bets! Keep a lookout for more features in the coming weeks.