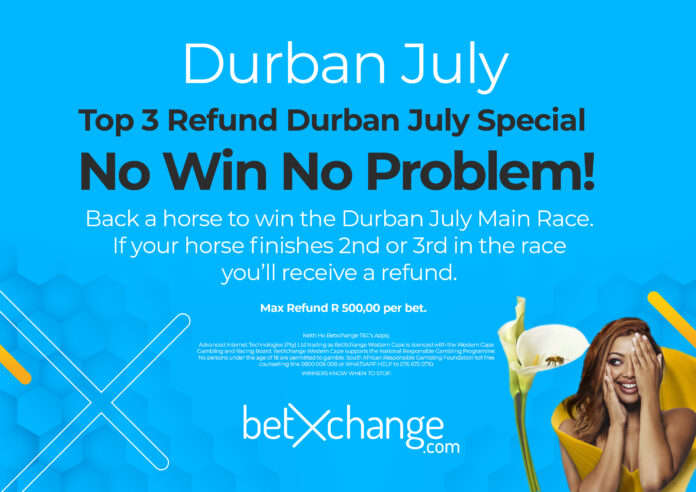 BetXchange is the best place to get value for your money when it comes to wagering on the illustrious Durban July this year. The race is due to take place on Saturday, July 2nd, and will once again feature a talent field looking to etch their names into the history books.
This year's race includes a purse of R5 million and will see horses aged three and older compete over a mile. However, BetXchange is ensuring customer satisfaction for the big race with a Top 3 Refund promotion.
What Is The Top 3 Refunds?
The Top 3 Refund is likely to be one of the most popular promotions that you can find anywhere online for the Durban July this year. Bettors with BetXchange will be able to get their money back on selections made should their selected horse finish the prestigious Group 1 in second or third place.
It is likely to soften the blow for bettors should they have backed the horse that finishes in second and third, and once again shows the commitment that BetXchange has for its customers.
How Do I Get Involved?
Getting involved in the Top 3 refund special offered at BetXchange is straightforward for all existing customers. The promotion is eligible for all bets placed on the Durban July in 2022. You will get a maximum cashback of R500-00 on your selections should they finish second or third. If you follow the terms and conditions of the bonus, the refund will be added to your account as soon as the final announcement regarding finishing positions has been made.
Kommetdieding Bidding For History
One of the ways in which legends are made in the Durban July is by retaining their title as the Durban July winner. To this point, only five previous winners have been able to win back-to-back Durban July races, with the most recent coming in 2019 when Do It Again did just what his name suggested he would. Campanajo was the first horse to win back-to-back races in 1897 and 1898, while Corriecrian, Milesia Pride, and El Picha would later achieve the feat.
Do It Again's win in 2019 saw him become the first horse in 19 years to win back-to-back Duban Julys, and that is something that Kommetdieding will be looking to achieve this year. BetXchange currently has him as a 12/1 chance to achieve a second straight win in the race this year, which is slightly higher than the 10/1 he was set off at last year.
This year, his form looks solid enough to merit support for trainers Harold Crawford and Michelle Rix. His 2022 campaign started with a second in the G1 Queen's Plate against Jet Dark, before he reversed the form at the end of January with victory in the G1 Cape Town Met over an extended distance of one mile and two furlongs. However, he has struggled on his previous two starts, which includes his latest outing, which saw him finish four and a half lengths behind Astrix in the G1 Premier's Champions Challenge at the end of April.