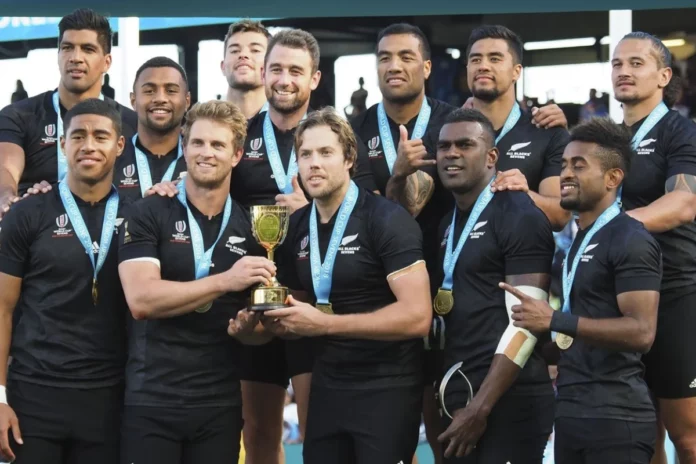 The best rugby sevens teams in the world travel to Cape Town for the Rugby World Cup Sevens from 9-11 September 2022

The Blitzboks are rugby sevens commonwealth champions and they won the World Sevens Series in 2021. The South Africa rugby sevens team finished second on the 2021/2022 Sevens World Series standings and they will be looking to finish the season by winning the Rugby World Cup Sevens for the first time ever.

The Rugby World Cup Sevens will be very competitive with defending champions New Zealand (4/1) and Fiji (3/1) both looking to win the title and Australia (4/1) will also be looking to lift the trophy after winning the 2021/2022 Sevens World Series.

South Africa's Siviwe Soyizwape scored six tries during the 2018 Rugby World Cup Sevens and the captain of the Blitzboks will look to use his pace and side stepping abilities to get over the try-line and guide the BlitzBoks to World Cup glory. BlitzBok veteran Cecil Afrika who is the all time leading South Africa scorer in the World Sevens Series with 1462 points, has been recalled to the squad and this selection could turn into a masterstroke from coach Neil Powell.

Kurt Baker has played over 200 games for the All Blacks Sevens team and he has scored over 100 tries. Australia's Corey Toole finished second on the World Sevens Series try scoring charts with 43 tries in 2021/2022 and Alowesi Nakoci scored 23 tries for Fiji during the World Sevens Series.

South Africa Sevens player Selvyn Davids has highlighted how big of an occasion it will be for South Africa to play in a home World Cup. 

"A home World Cup is just something else. I mean, the World Cup alone, whether it's in South Africa or Japan or New Zealand, a World Cup, it's something huge, it's a one-off tournament, it only comes every fourth year.

"So, for us, having it at home, it's something huge. We're excited, It's every team's dream to win the World Cup. That's the goal"

Pick: South Africa wins 2.75/1 on BetXChange  
Odds subject to change.